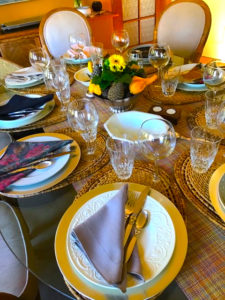 Different plates, different napkins, a 25th birthday on the 24th; some with soul mates,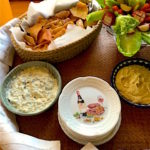 some soul searching – ChezHelvetica's Thanksgiving was a joyous gathering of family (three generations!) and old and new friends. Caraccioli Brut Cuvée and Rosé, Spinach and Artichoke Dips, Crudités nested in Romaine and Baked Brie with Lemon Pita Chips started the sunset celebration followed by fragrant, heartwarming Acorn Squash Soup served in their shells. Delicious Whole Foods Diestel Turkey, brined in Butter and Herbs (roasted in my convection oven according to Purcell-Murray's instructions) took its rightful place center stage. Savory "Simple is Best" Dressing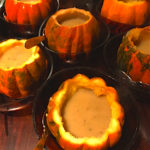 (made with Ciabatta, Cornbread, fresh Sage, Rosemary and Thyme) and mouthwatering Mashed and Sweet Potatoes, Green Beans and two different kinds of luscious Cranberry Sauces accompanied our bird. Nacina Reisling and The Seven Deadly Zins Zinfandel kept the conversation flowing between the Nasty Women and Men around the table all night. And then, the incredible homemade pies – Key Lime Pie, Pumpkin Pie and a Chocolate Pecan Pie made by the Birthday Girl herself. Thankful, Grateful, Stuffed!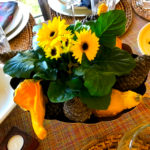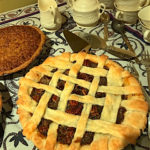 Share on Facebook

Tags: California Bountiful, Caraccioli, Epicurious.com, Purcell-Murray, The Seven Deadly Zins, Whole Foods