The Question Now: Why is this seder different from all other seders? In this surreal time, commemorating our ancestors release from bondage has been supplanted by family and friends ordered to stay in place – in self-isolation. ChezHelvetica honored both by first conversing with nuclear relatives and old friends virtually, then launching into a very authentic, traditional dinner atop beautiful new white, blue and silver Lamé linen placemats from Jerusalem (gifts from sister Abby).
Charoset with Apples, Dates, and Walnuts (plus Gnarly Head Old Vine Zin) with a touch of Horseradish on Yehuda Matzos started our meal, followed by bowls of steaming home-made Matzo Ball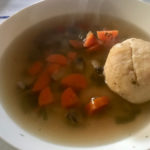 Soup.
Delicious Roasted Chicken infused with Lemons, Tangerines and Saffron echoed the exotic tastes of Persia, Potato Kugel and amazing Roasted Artichokes filled with fresh Oregano, Thyme and Garlic sent us on a global journey from biblical times to the present. Coconut Macaroons dipped in Chocolate concluded our heartfelt dinner.
Next year In Person with All of our Loved Ones!
Share on Facebook

Tags: Gnarly Head Wine, Yehuda Matzos