Pride, Independence and Victory describe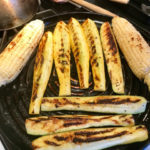 ChezHelvetica on this auspicious occasion. Jubilant Pride Parades and the 4th of July inspired the table setting and menu for this family welcome, with Food & Wine Magazine providing the recipe for a delicious Grilled Squash and Corn Salad with Pumpkin Seed Vinaigrette.
Using home-grown greens already on hand instead of Kale, and removing Corn Kernels by inserting the cob into a Bundt pan (so that the kernels fall into the pan and not all over the floor) facilitated the creation. Trader Joe's Moroccan Harissa spiced the piquant dressing. Turkey Soup made from an Empire Turkey Breast, Onion, Garlic, Celery and Carrots accompanied the salad, along with Bakers of Paris Pain Rustique topped by Primo Taglio Soft Goat's Cheese. Sweet TJ's Medjool Dates concluded this meal but attending the Oakland A's/Minnesota Twins baseball game and witnessing Marcus Semien's Grand Slam homer crowned the day!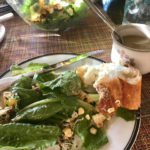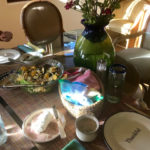 Share on Facebook