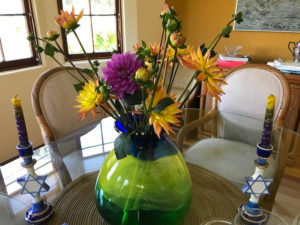 ChezHelvetica celebrated Rosh Hashanah with joy and excitement for the New Year, surrounded by treasured gifts and love from family and friends. Hand-painted Jewish Star candlesticks from sister Abby and Rosenthal China with Georg Jensen Cactus Sterling Silver from my parents adorned the table.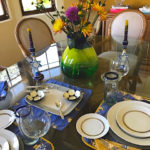 With a nod to traditional holiday foods, this evening's menu circled the globe presenting delicious gourmet dishes. Our first course included Noe Valley Bakery Challah and Fuji and Honeycrisp Apples with O Organics Honey along House of Bagels Lox nested in Basil leaves with Campari Tomatoes and Trader Joe's Greek Medley Olives, served with luscious HOB Cream Cheese. Incredible Matzo Ball Soup made by my dear friend Joan was a kaleidoscope of orange, yellow and purple Carrots, Rutabaga and Ginger.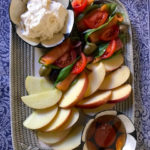 Our main course featured a triptych of Middle Eastern entrées: Cinnamon-scented TJ's Israeli Couscous (made with Pine Nuts, Shallots and Raisins), Honey Dijon Garlic Chicken Breasts and Eggplant with Tomatoes, topped by Pomegranate Seeds. Jewish legend professes Pomegranates are symbols of righteousness with the seeds holding luck and wisdom. Viñas Chilenas Rosario Estate Reserva Merlot added even more happiness to the occasion. The wonderful desserts for this sweet holiday were Rugelach and Fruit Tarts. L'Shanah Tova! A good year to all!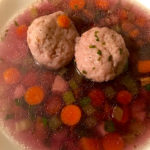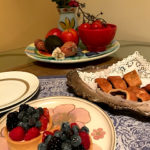 Share on Facebook