The ChezHelvetica World Cup proffers a new meaning to the storied tournament. Here, it is an international collaboration – a pairing of the best in food, wine and, for this Summer Celebration, Cheese and Chocolate. First up – Spain. Mont
Marcal Brut Cava Reserva from Catalunya delighted guests upon arrival, as did the sunshine and brilliant blue skies. Then the first course – sweet, refreshing Watermelon draped with savory Proscuitto. An intoxicating Chilled Spanish-Style Tomato Soup, accompanied by Marcona Almonds, Olives and a lovely Lioco Rosé from Mendocino County followed. (A note here,
instead of using the called for Sherry Vinegar in the soup, ChezHelvetica substituted Balsamic Vinegar and Sherry). Next served, a Chicken Waldorf Salad bursting with Walnuts, Apples, Grapes, Raisins, Celery and Grilled
Chicken on a bed of Organic Arugula – all drenched in a luscious Greek Yogurt and Mayonnaise Dressing. Now for the Cheese and Chocolate pairing! Inspired by an event at The Cheese School of San Francisco, four Cheeses (from the U.S., France, Germany and Italy) matched with four complementary Chocolates (from the U.S., France, Philippines and Vanuatu), as we happily quaffed Sphere Zinfandel from Lodi.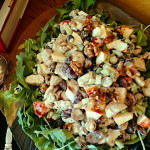 Finally, The Trophy: A Chiriboga Blue Cheesecake (made with Blue and Cream Cheeses, Orange and Lemon Zests, Vanilla, Sugar and Eggs in a Chocolate Wafer crust). The winning team? Five incredibly intelligent, creative women – now known as the Cava V!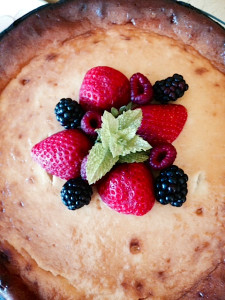 Share on Facebook