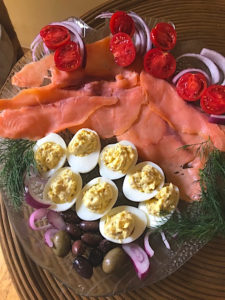 ChezHelvetica wove interlacing culinary patterns into a warm hug for visiting family.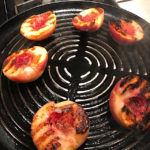 Grilled White Peaches from the VA Farmers Market with choice of (Brown Sugar & Cinnamon, Maple Syrup or Haagen Dazs Carmel Cone Ice Cream) toppings was Friday night's arrival dessert. Saturday's dinner Soiree' delighted guests as fresh Pine Nut Pesto doused frilly 'Gigli' Pasta,
accompanied by grilled Zucchini and Aidell's Italian Style Chicken Sausage, warm Baguette and Greek Olive Medley. La Crema Chardonnay from Sonoma's North Coast added bright Citrus, Apricot and Honeydew scents. Finally, Trader Joe's Crispy Oatmeal Chocolate Chip Cookies completed the heartwarming meal. A classic Sunday Brunch featuring Lox and 'Everything' Bagels from the House of Bagels, Deviled Eggs, Early Girl Tomatoes and Red Onion ended this reunion with Big Dreams for the next!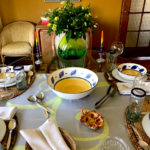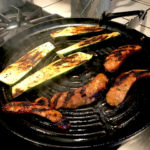 Share on Facebook