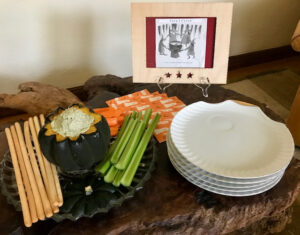 A Coven of very special Cava 5 friends (best described on this occasion as WitchCrafty, Spellbinding, Spooktacular & Ghostly)
encircled ChezHelvetica's Halloween lunch Crucible Hell-Vetica. To start, a gripping Cauldron Dip of Edamame, Ricotta, Pesto and spices in an Acorn Squash, served with Crudité and Signature Parmesan Grissini Breadsticks. Sparkling Canals & Nubiolo Brut Cava (our signature drink) accompanied the dip and delectable Pumpkin Deviled Eggs. Now moving
closer to the flames, Sugar Pumpkin Soup filled the witches with savory tastes of Shallots and Garlic, and sweet flavors of Coconut Milk and Maple Syrup spiced with fragrant Cinnamon and Nutmeg.
On to the delicious main course – Puff Pastry Rotisserie Chicken and Sweet Potato Pie and a Green Salad, paired with the flavors of Plums and Blackberries in Ghost Pines Cabernet. The haunting finish – No Trick All Treat – Halloween Chocolate Chip Cookies!
Thanks to each wonderful Cava 5 friend for your artistic, creative or mouth-watering contribution!!!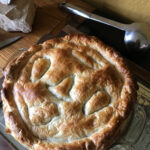 Share on Facebook