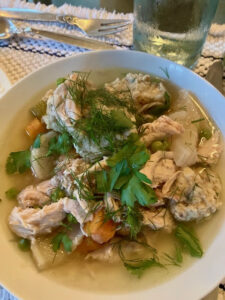 Rosh Hashanah, the New Year! ChezHelvetica celebrated 5783 (commemorating the creation of the world) with traditions symbolic to this occasion and new recipe adventures. For a sweet new year we first dipped Fuji Apple slices into luscious Honey from the Bay Area Bee Co., sweetening further with large "fancy" Medjool Dates and wonderful Poppy Seed Challah from the Noe Valley Bakery.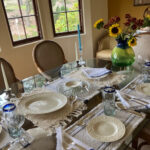 Our main course featured Chicken Matzo Ball Stew (thanks to inspiration from The New York Times) and Roasted Broccoli & Hummus. The outstanding stew took three step-by-step days to create with my talented Sous Chef — cutting Onion, Celery, Turnip, simmering Rosie Organic Chicken and making matzo balls. Streit's Matzo Meal combined with Eggs, Ginger (freshly harvested from our garden), Nutmeg, Parsley and Schmaltz skimmed from the Chicken soup. Carrots and Peas then brightened the stew, with fresh Dill and Parsley adding the final aromatic touches.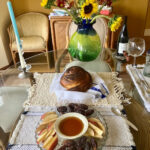 Charred Broccoli florets drizzled with Olive Oil, Lemon Juice, Paprika and a mix of spices (to replicate Za'atar seasoning) crowned Sabra Hummus delivering simply sensational taste. Willamette Valley Argyle Pinot Noir and Reed's Ginger Beer paired well with this holiday meal. And what a delight to be surrounded by Wedgwood "Patrician" China from my Grandmother, Georg Jensen "Cactus" Sterling Silver flatware, and tassel placemats from my Mother, and beautiful Israeli linen napkins from my Sister Abby. Besides the Challah, my dear friend Joan also brought delicious Honey Cake, Rugelach, and Macaroons with Straus Organic Vanilla Bean Ice Cream for the crescendo of our heart-touching gathering. A Happy, Healthy, Sweet New Year to All!