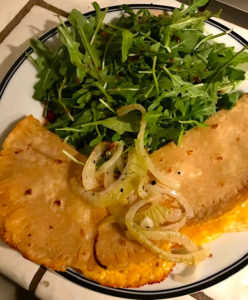 From the awe-inspiring shores of France and Spain,
the unique identity of Basque culture enveloped the table at ChezHelvetica on this rainy night. Piping hot Basque Garlic Soup filled the air with its smoky aroma, as we were warmed by broth thickened with Eggs and Pan de Mie (found, surprisingly, at the VA Farmers Market). Sherry Vinegar (made with Balsamic Vinegar and Sherry) heightened the sensation of this Sopa de Ajo.
Organic La Tortilla Factory Corn-Wheat Tortillas, spread inside with Trader Joe's Truffle-Honey Mustard and outside with melted Butter, wrapped Gouda and Cheddar Cheeses. Oven-grilled Onion Rings adorned the Quesadillas. Pomegranate Dressing bursting with seeds, Pomegranate Syrup, Meyer Lemon Juice and Extra Virgin Olive Oil showered the accompanying Arugula Salad. Pepperidge Farm Double Dark Chocolate Butter Cookies finished our conceptual voyage from the majestic Basque Mountains to the hills of Land's End. Dulce – Sweet Indeed!
Share on Facebook