Tilting toward the sun, ChezHelvetica celebrated the Summer Solstice with Scandinavian-inspired revelry and best possible friends – the Cava4 (as #5 was in Scotland)! Our tea party started with Crab Toast, a luxurious combination of French Baguette toast slathered with brown butter mayonnaise and sweet Dungeness Crab. Sparkling Breathless Blanc de Noirs paired perfectly with this course. Glazed Fresh Orange Scones with hints of Vanilla and Cardamom, doused with luscious Lemon Curd, and Pineapple cubes followed.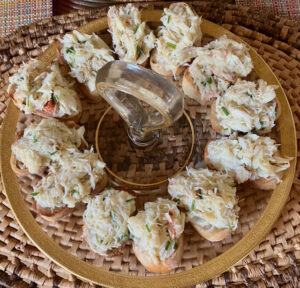 A traditional symbol in European celebrations are flower crowns so we played musical chairs, moving to the other end of the table with our overflowing blossoms and greens to create our crowns.  Sweet Lemon Iced Tea  energized this very focused multi-step creation.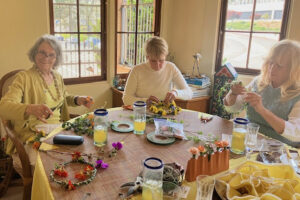 The sweet send-off were Strawberry Tartlets. Ground Almonds, Walnuts and Pecans cradled a Strawberry, Lemon Verbena and Honey filling (topped with rich Whipped Cream) for a distinctive new taste. SUMMER HAPPINESS!!!