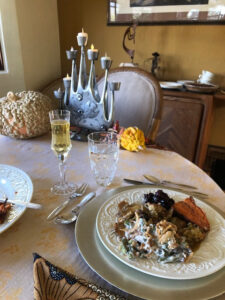 Thankful, Grateful, Artful, Graceful and FULL! Those heartfelt words depict the feelings at ChezHelvetica this Thanksgiving in reconnecting with family, setting the table with treasured heirlooms and preparing traditional dishes with new twists.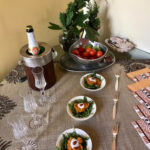 Our feast began with a small salad of Spinach, Arugula and pureed Pumpkin with a dollop of Hidden Valley Ranch Dressing and Martinelli's Sparkling Cider. Mary's Free Range Organic Turkey Breast dry brined in Kosher Salt, Sugar, Dried Thyme, Garlic Powder and coarse-ground Black Pepper for 28 hours.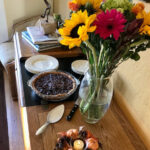 The mouthwatering Turkey and Bon Appetit's Simple is Best Dressing (prepared with Ciabatta, Onion, Celery, Chicken Broth and Herbs) starred, drenched with Andronico's savory Turkey Gravy. French's Onion Rings recipe for Green Bean Casserole was transformed with the addition of Sautéed Mushrooms and Garlic. Another metamorphosis – baked Sweet Potatoes split in half and finished under the broiler with Honey, Cinnamon and Nutmeg. An amazing Cranberry Sauce with Dried Cherries and Cloves will forever change using just plain cranberry sauce. And then, a delicious Chocolate Pecan Pie in a homemade Butter and Sour Cream crust. Such Happiness on Thanksgiving! FULFILLMENT!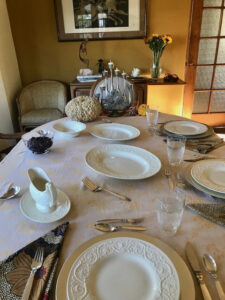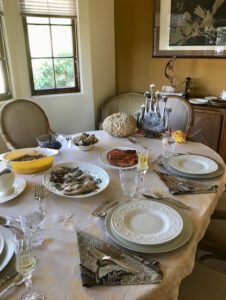 Share on Facebook