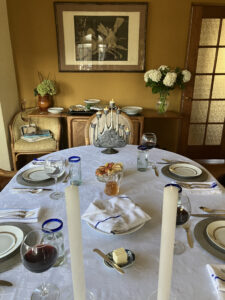 According to legend, Rosh Hashanah is the birthday of the universe ~ the day of Adam and Eve's creation. Its actual translation is Head of the Year. At ChezHelvetica, this High Holy Day celebration was more "Hole-y" since Covid infected our friend Joan who then could not join us.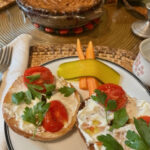 Persevering, our dinner started with the sweet tradition of Apples and Honey followed by Matzo Ball Soup. Our main course featured Everything Bagel Roasted Salmon, Green Beans and a simply delicious Basically Noodle Kugel. Brushing Honey and Dijon Mustard on the Salmon adds sweet and tangy flavors, while Everything Bagel Seasoning adds extra crunch and spice. Notes of Vanilla and Cinnamon heighten the luscious mixture of Sour Cream and Cottage Cheese, swirling the buttered Egg Noodles of the Kugel.
The incredible wine pairing was a 1996 Jordan Winery Cabernet Sauvignon, a gift from our neighbor.
As we finished the wonderful home made Blackberry Pie in a beautiful whole wheat crust (using berries picked from a friend's garden), optimism for a Happy and Healthy New Year encircled us. May there be Renewal for All!!!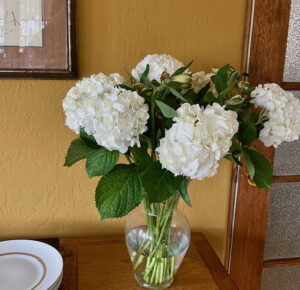 P.S. Wearing masks, we brought this dinner to Joan's house the next day where she gave us the best Challah from Noe Valley Bakery.