Halloween at ChezHelvetica transformed Tricks and Treats with the Cava 5 (group of amazing friends) as the Good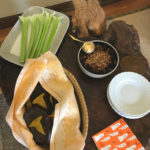 Witches. Magic filled the rooms with delicious food, wines, potions and creative ideas. Our spooky start – a special brew of Pomegranate (with seeds), Apple Cider, Ginger Beer and Prosecco along with Witch Rules (#3 If the pointy shoes fit get the matching hat and broom). Roasted Pumpkin Seeds with Raisins and Bewitching Sand-Witches with Celery Broomsticks deepened the spell with witch hats adorning the Pumperknickel, Maille Dijon Mustard and Cheddar Cheese sandwiches.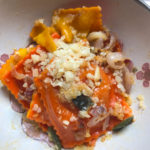 Pumpkin Ravioli with Brown Butter Sage Parmesan Sauce then swooped in with Bewitched Chardonnay from Russian River Valley. A bubbly caldron of oil crackled with Sirloin Steak and Organic Chicken Breast cubes, with choice of Peanut Satay Sauce from Indonesia and BBQ Sauce dips. A Witches Hairball Salad of Carrots, Alfalfa Sprouts and Avocado sided the fondue as luscious Bewitched Pinot Noir and Wilson Tori Zinfandel from Dry Creek Valley sent our brooms ever higher into the sky. Black Devil Woopie Pies (made with German Chocolate Cake and black food color with an orange-colored Marshmallow filling) miraculously placed the Good Witches on Cloud #9! Happy Halloween Indeed!