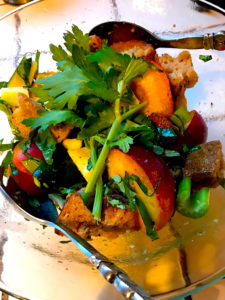 A portmanteau is a linguistic blend of words in which parts are combined to form a new word, like panzanella – the Italian words for pane (bread) and zanella (deep plate). This fine evening, ChezHelvetica served a Peach Panzanella Salad, blending words and the freshest of this season's
bounty. From the Ferry Plaza Farmers Market, Tory Farms Peaches, Acme Bread New York Rye, Zucchini and Celery macerated in Extra Virgin Olive Oil and Champagne Vinegar, then accented with Basil Chiffonade. Our first course was a creamy Asparagus-Broccolini Soup, followed by the Panzanella Salad and Roasted Chicken Breasts seasoned with Parsley and Lemon. Smooth, chilled Acacia Chardonnay from Carneros paired perfectly with our meal.
Delicious "Grandma Harvey's Cherry Cobbler", a recipe from Gotelli & Sons Farm at the VA Farmers Market, burst with the sweetest Bing and Ranier Cherries served warm a lá Mode. A truly wonderful celebration for visiting family!